My pulse increased. The whooshing in my ears deafening. My mind ran wild with
jumbled details and I sensed the walls closing in.
Grr. Grr. Grr.
Completely overwhelmed with too much to do and not enough time to get it all done, I felt a full-blown meltdown brewing.
To make matters worse, "spaghetti brain" surfaced. Spaghetti brain. That's the term I use to describe the funky thing that happens in my head when so many thoughts are competing for my focus.
Ugh.
Do you ever feel this way? As if you will drop all the spinning plates of responsibilities, chores, hobbies and other commitments?
I easily become overwhelmed when I have too much on my plate. I am a "doer," so I live by lists. Lists help prioritize, categorize, delete, change, and realign my activities with the most important tasks at hand. Not to mention how great it feels when I mark something off my list.
Not only that, but lists save brain power. Believe me, spaghetti brain can't afford to waste brain power. Otherwise, the cranky side of me emerges amidst my panic. Trust me. No one wants to see my cranky side.
Being a "doer", I lean toward agreement words such as: yes, of course, absolutely, and no problem. As the wife of a bi-vocational pastor, mother, full-time member of the daily work force, writer, and living on a small farm with livestock, there are far more tasks to do than time in which to do them.
Sometimes even the weight of serving the Lord leaves us with a drowning Spirit gasping for air. Despite a doer's eagerness to serve the Lord, when that service overwhelms and exhausts, doers often let go, step back, and in some cases, even leave the church in search of rest. Ironic, isn't it? Those who find joy serving others in the Lord lose it from the same, giving the enemy more room to work his destruction.
Satan's clever, isn't he? Little by little he claws away at us, even intertwined in our church activities, urging us to do more and more, all while he's lurking in the shadows, plotting to destroy us, picking us apart one sliver at a time until everything comes crashing down around us.
Hear me.
Serving the Lord grows us spiritually along with quiet time spent with the Lord, Bible studies and prayer. We must serve, but we must serve as God and God alone calls us. We must learn to recognize His call, not the distraction of the enemy. We must remember Satan uses God's own Words to deceive when it suits him.
God's relationship with each person is unique and personal. Trying to join the Lord in every area He's working is beyond reality for any individual, so each believer must discern what role he or she must play. Leave God to knit each role together to serve His purpose.
If you are a list-maker, make lists to help prioritize, categorize, delete, change, and realign your activities.
Whatever you do, pray for God to guide your decisions. Pray over your lists – everything on them, the way they are prioritized and categorized. Pray about what needs to be removed from your activities. Pray, truthfully and earnestly before you commit to anything. Accept God's permission to say, "No" to things that hinder His calling in your life. Accept God's urging to "let go" of areas to which you cling for your own benefit. Let go of pride, hold on to His promises, and allow Him to realign your path. Let go of someone else's opinion of where you should serve or what you should do and cling to God's desires ahead of theirs and your own. Let go of past hurts, past failures, past sins and attitudes that grieve the Spirit.
Let go and just trust Him, then hold on until He changes your direction.
Please understand. Serving the Lord is often exhausting, difficult, frustrating, and in some cases life-threatening. God may call you to hold on and stand firm through the most tragic difficulties. At the same time, God may simply ask you, or a brother or sister in Christ to let go of one area of service only to be redirected to another for reasons unexplained. Whatever the case may be, let go of anything, including attitudes, which threatens your grip on your own relationship with Jesus. Keep your focus on the path God placed ahead specifically for you. Remove your eyes from the path God set for another.
Before you assume, no, I don't "have it all together." Writing this feels a bit like "the pot calling the kettle black", as my grandmother used to say. I too am reminded to remain focused on my own relationship with Jesus and the path He placed before me.
I am reminded that sometimes we must let go just to hold on.
"Let your eyes look straight ahead; fix your gaze directly before you." Proverbs 4:25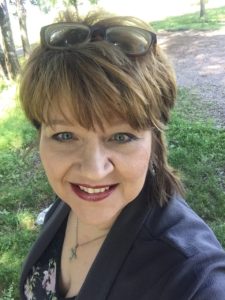 Rita Halter Thomas is a staff writer for Prophecy Simplified, providing HOLD ON Stories to encourage you to hold on to your faith. She is a pastor's wife and the mother of a college missions major. She is also an award-winning writer, the founder of The Write Editor,
http://thewriteeditor.com
, and a former newspaper and magazine publisher with 23 years' experience in print and digital media. Follow her on Facebook, Twitter or Instagram.
Read more...
---