"Oh, yay! I will finally have roots," our eight-year-old daughter squealed.
I remember well that day in 2004. My husband and I felt God calling us back to Arkansas from the Midwest, so once our direction became clear, we shared our plans. Marinna's response to our announcement struck a chord in my heart.
Roots. That word settled deep in my soul.
Why I never thought about her absence of roots, or her need for it, I really don't know. Preoccupied? Oblivious? Who knows? But in her excitement I realized she spent more time without extended family surrounding her than with them. When we left our home state five and a half years prior, Marinna was only two years old. Her young mind remembered very little of the years we lived near family.
Living 750 miles away, trips home were limited to once or twice per year.
She wanted roots.
Without family in the area when we moved to Nebraska, we depended upon new relationships to fill the void. (God intervened, and that's great story for another day.) With a fourteen-hour drive one way, weekend visits were not an option. We also moved four times in five and a half years for my job.
No family ties. No roots.
Not in Nebraska.
Not in South Dakota.
Marinna attended schools with children whose families lived in the same area for generations. The towns were small so many of her friends' classmates attended school with their cousins. She desired that familial connection. She wanted that link to her history and her heritage.
She needed roots.
No wonder the news of our return to Arkansas resulted in her spontaneous squeal of excitement.
But not just anywhere in Arkansas.
Central Arkansas.
Home.
Finally, Marinna connected with her roots. Family – not friends who became family – a blood link.
My friends, as Christians, we have a blood link through Jesus Christ. We are family, adopted heirs of the throne through our faith in Jesus, by the blood He shed for us as an atonement for our sins. When we accept Him as our Lord and Savior, we are rooted in the family of God.
When we accept Him, we have roots like no other roots.
When we accept Him, we have a home like no other home.
When we accept Him, we have family like no other family.
There is no distance too great for Him to cross every single moment of every single day.
There is no place beyond His reach; no hurt He cannot heal; no family He cannot repair; no home He cannot rebuild; no promise He will ever break.
Are we dysfunctional at times? Without a doubt. But while we are flawed human beings, we are His children. He is our Father.
Christian, trust Him with everything.
Stand firm on your Heavenly roots.
Hold tight to your Holy family tree.
Fourteen years ago, our young daughter erupted with excitement about finally being home with family, firmly planted in her roots.
God rooted deep within us a desire in our hearts for Him; the want to be near Him; to need Him.
As Christians, when we make our heavenly move home, we will no longer feel unsettled, restless, or sometimes distant from the one and only God who loves us so much, He gave us the life of His son, Jesus.
That's some kind of deep root.
That's some kind of blood link.
That's some kind of love.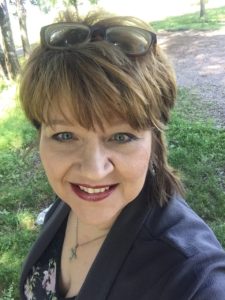 Rita Halter Thomas is a staff writer for Prophecy Simplified, providing HOLD ON Stories to encourage you to hold on to your faith. She is a pastor's wife and the mother of a college missions major. She is also an award-winning writer, the founder of The Write Editor,
http://thewriteeditor.com
, and a former newspaper and magazine publisher with 23 years' experience in print and digital media. Follow her on Facebook, Twitter or Instagram.