Part I – The Routine Screen
"We've set an appointment for you to come back next Monday to review the results of your biopsy. In the meantime, we need to set an appointment with a surgeon."
A whole week? A surgeon?
The doctor continued to share the specifics with my husband. Attempting to shake the fog of the anesthesia, I tried forcing my focus on the conversation between them. Though I managed to fumble my glasses into place, the doctor's face remained fuzzy. I sensed the doctor's concern only by the serious tone of his voice.
It was supposed to be just a routine screen.
"The polyp is too large to remove here and is attached near the appendix. Either way, surgery will be required, and will include removing part of the colon. We won't know the results of the biopsy until next week."
"But if it's cancerous, perhaps we've caught it in time?" I asked, searching for anything positive.
"Let's hope so." His soft reply offered little in the way of comfort. I can only assume the doctor didn't wish to give me false hope.
Don't be afraid. Just breathe.
I had two choices – be afraid, fret and worry, or rebuke fear.
In the car, I broke the silence. "Well, it is what it is. Or it isn't what it isn't. Either way, worry changes nothing. We'll just wait and assume the best."
If my husband said anything at all, I didn't hear a word, but I sensed his relief. He knew my head was in a good place and that meant everything in the moment.
Besides, it's only seven days. We'll know more on Monday.
I only needed to trust God, hold on, and face Monday on Monday.
I know from the core of my faith, nothing catches God by surprise. Why worry or stress over what is or isn't?
"And who of you by being worried can add a single hour to his life?" Matthew 6:27, NASB
Worry changes nothing for positive, but God can change anything. What will be, will be. My life is in God's hands – always, not just in this moment.
Maybe you've received recent news, feeling sucker-punched in the gut and struggling to wrap your head around it. Maybe you are still waiting for test results – a wait torturing your thoughts with fear. Maybe you are fighting for your life, growing wearier every day.
Whether you are just beginning to slip into the shadows of worry or feeling completely engulfed in the darkness of despair, leaning into the light of your faith can change your perspective of everything.
"Then Jesus again spoke to them, saying, "I am the Light of the world; he who follows Me will not walk in the darkness, but will have the Light of life." John 8:12, NASB
As a child, I feared the dark, or rather, I feared the unknown lurking in the dark. At night, I always managed to find more courage with a single night light strategically placed in the dark hallway to light the path from my room to the bathroom. The soft glow of one small light changed my perspective of what was, or rather, wasn't lurking in that dark, creepy hallway.
As an adult, in some child-like way, I equate that to the Light of Jesus keeping my path lit by the words of my Lord, my relationship with Him, and my belief and faith in Him. He changes my perspective of everything.
Jesus clearly states He is the Light of the world. For me, the idea of facing anything in this life without Jesus strikes more fear in me than the situation itself. While weak humanity allows the strength of my faith some vulnerable exposure, I praise the Lord for sustaining me, strengthening me, and chasing away the shadows and darkness of this world.
My answers were a week away. Whenever a shadow of fear began to descend, I sought the Light to chase it away and reminded myself, "We'll know more on Monday."
(Editor's note: This is Part I of a three-part series – a personal account of recent experiences regarding a routine colonoscopy screen. I hope you'll follow this series to its final installment – and never postpone health screens.)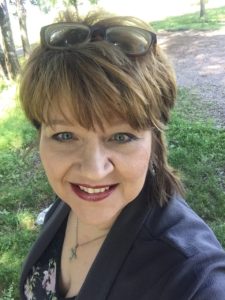 Rita Halter Thomas is a staff writer for Prophecy Simplified, providing HOLD ON Stories to encourage you to hold on to your faith. She is a pastor's wife and the mother of a college missions major. She is also an award-winning writer, the founder of The Write Editor,
http://thewriteeditor.com
,

and a former newspaper and magazine publisher with 23 years' experience in print and digital media. Follow her on Facebook, Twitter or Instagram.
Read more...
---