What If . . .
Biopsy. Surgery. Those words lingered in my thoughts as we waited for the results.
We prayed. Our church, friends, and families all prayed.
While we waited for the follow-up appointment ­– set for Monday, one week after my colonoscopy screen ­– I buried myself in routine activities to avoid "what if" mind games.
What if the biopsy reveals cancer? What if the cancer isn't contained? What if I waited too late for my screens and cost myself precious time? What if all the praying in the world doesn't change the feared outcome? What if . . . What if . . . What if . . .
The enemy loves to prey on our fears, doesn't he? Waiting for important answers can leave us vulnerable to fear, doubt, and other attacks on our faith in God.
"Therefore I say to you, all things for which you pray and ask, believe that you have received them, and they will be granted to you." (Mark 11:24-25, NASB)
While not promoting "name it and claim it" gospel, belief – trust – is essential. We must believe, place our trust in God, and hold on no matter how He answers our prayers.
Just keep praying, believe and trust.
What if I chose to focus on the "right" what ifs? What if I trust Him with my fears and allow Him to comfort and strengthen me? What if my heart prays continually while my hands stay busy? What if I simply hold on and allow God to walk me through each step?
We'll know more on Monday. Keep praying.
I fully expected to wait the whole week before learning the results of my biopsy, but God didn't make me wait. Saturday, five days after the colonoscopy, my phone buzzed, the screen lit and flashed my brother's number.
"Hey, there is someone here who wants to talk to you," he said.
What? Who would be with my brother and want to talk to me? Out-of-town relative in for a visit? A former classmate?
"Mrs. Thomas . . ." I recognized the voice of the doctor, ". . . the biopsy results came back. It was benign – at least what I took in the office. We can't be 100 percent sure until the pathology report is back after surgery, but so far everything looks good . . . I didn't want you to have to wait until Monday to hear the good news."
Yes! Praise the Lord!
Hope, relief, and awe washed over me. I received three gifts in that one phone call.
The first gift came in the initial report – while I still faced surgery, the benign biopsy elevated my hope. Second, the shortened wait relieved the part of me still vulnerable to stress and worry. Third, I am in complete awe that a "chance" encounter with my brother on a weekend led to a personal call two days prior to my follow-up appointment. The details of that chance encounter – incredible as they are – reduce to this: I received a personal call – not from my primary physician, but a specialist – on a Saturday from my brother's phone. How does that happen except by the love of God through a caring doctor?
Wow.
We learned more during our Monday appointment. The doctor shared the size, location, and type of polyp as he pointed at images taken during the procedure. My husband and I listened as he shared and answered our questions, translating clinical terms for our benefit.
After a time, he paused. Looking over the rim of his glasses with gentle-but-serious eyes, he said, "Young lady, if you had put this off any longer, we would be having a totally different conversation. It's not a matter of if, but a matter of when, this mass becomes cancerous. Based on my experience, this type tends to be the second most aggressive kind."
Yikes.
Though optimistic, he reminded me of the needed post-surgery pathology report to know for sure.
Hope – I still have hope.
I had postponed the colonoscopy two years. With no obvious symptoms, ignoring the nagging within me came easy. While I needed the procedure, I dreaded the preparation required. One morning, as I showered and dressed for work, an emphatic message struck me, "Make an appointment with the doctor TODAY." When I arrived at work, I called. That appointment led here.
What if I had chosen to ignore the nagging urge, again? What if my primary physician opted to start my health check with different tests?
The what ifs never stop, do they?
Before we left the doctor's office, we secured a consultation appointment with the surgeon we selected. In another week, we'd know even more – confident in holding on, taking one step at a time.
On the drive home, I allowed myself to wonder: What if we hadn't prayed?
(Editor's note: This is Part II of a three-part series – a personal account of recent experiences regarding a routine colonoscopy screen. You may read Part I at https://www.standfirmministries.com/well-know-more-monday-part-1/. I hope you'll follow this series to its final installment, never postpone health screens, and find the courage to Hold­­_On no matter what you may be facing.)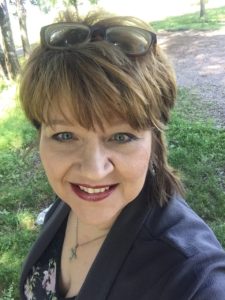 Rita Halter Thomas is a staff writer for Prophecy Simplified, providing HOLD ON Stories to encourage you to hold on to your faith. She is a pastor's wife and the mother of a college missions major. She is also an award-winning writer, the founder of The Write Editor,
http://thewriteeditor.com
, and a former newspaper and magazine publisher with 23 years' experience in print and digital media. Follow her on Facebook, Twitter or Instagram.
Read more...
---